Students! Did you do your profile survey? Check your email for a chance to win a £20 voucher and tell us what you think now!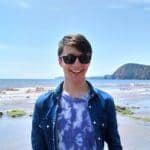 Thank you! I have had such a great time chatting to the students and other scientists, so I am absolutely chuffed to bits to have been chosen! I'd like to thank the students, and their teachers, for being so curious about science and sustainability. Thanks also to the team at I'm a Scientist who were super supportive, fun, and encouraging throughout the event.
Climate change is one of the most important environmental issues of our time, and it is the next generation that will be most impacted. Whenever I do STEM engagement activities with primary school children, it makes me genuinely optimistic that the Earth is in safe hands. I am particularly encouraged by the questions we received during this event – bursting with curiosity and intelligence. How can we help clean up plastic pollution? Is global warming reversible? How much ice melts every year? All questions which will help us make a better world.
I also absolutely loved the questions that would come out of nowhere, that challenged me as a scientist! Simple questions, but ones that I wouldn't have even thought to ask, such as why is lava hot? What are clouds made of? And, of course, what is your favourite fortnite dance? (Has to be floss). As a PhD student, I spend a lot of time focussed on very tiny problems. This forced me to take a step back and just appreciate just how COOL science is again! Thank you so much for this.
During the live chats, I was often asked what my favourite part of being a scientist is. Without a doubt, it is a joy and a privilege to be a part of science communication and I'm a Scientist. I love it when people get to challenge the world around them, debate science and work together to find solutions to big problems like climate change. But I also love learning so much from everyone I work with. From beach cleaning on the Shetland Isles, to light years and supernovas.
Working in sustainability, and climate change, it is extremely important to work alongside a diverse range of scientists, so that you can learn from other people outside of your field! In this event, I learnt about fish diseases with Lyndsay, how Scotland gets all of its water from Matt, food security and sustainable farming from Maia, how plants protect themselves from diseases from Dionne, and how to clean contaminated land from Brendan. Such a breadth of experiences is super important in anything related to science, especially finding solutions to some of the biggest problems on Earth, like climate change.
Being a part of I'm a Scientist has genuinely changed me as a scientist. Moving forward, I will learn to take a step back and properly appreciate just how cool science is. I'll also challenge the simple and not be afraid to ask questions! I wouldn't hesitate one bit in recommending I'm a Scientist – to students, teachers, and scientists alike! It is one of the most rewarding experiences of my career. Thank you!
Scientists! If you'd like the chance to win funding for your own public engagement work, apply for the next I'm a Scientist, Get me out of here: imascientist.org.uk/scientist-apply