Profile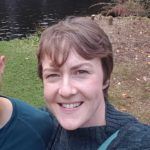 Dionne Turnbull
Curriculum Vitae
Education:

University of Dundee (2011-2016); University of Edinburgh (2007-2011); Napier University, Edinburgh (2002-2005); Berwickshire High School (1996-2002); Coldstream Primary School (1989 - 1996)

Qualifications:

PhD (2016); Bsc (Hons) Plant Science (2011); Bsc. Complementary Therapies Aromatherapy (2005); Advanced Higher Biology and Geography, Higher Maths, English, Art & Design, Graphic Communication (2001/2002)

Work History:

Before I did my PhD I had my own business as a massage therapist and aromatherapist. I've had various part-time jobs to keep me going while I was studying... bars, gift shops, supermarkets, call centres, and I worked as a waitress in my local pub when I was a teenager.

Current Job:

Plant Scientist - Post-doctoral Research Assistant

Employer:

University of Dundee – I work in the Division of Plant Sciences, which is based outside of Dundee at the James Hutton Institute (formerly the Scottish Crop Research Institute).

I work in the lab of Dr. Piers Hemsley who is an expert in plant protein S-acylation.
Favourite thing to do in my job: Discovering things that nobody else knows yet!

About Me: 33 year old plant scientist from Dundee, Scotland

Read more

I live on a farm just outside Dundee in Scotland with my partner Jose, our 4 year old son Saul, and a black cat called Maia who likes to sleep on my head! Our garden is full of toads and the field across from the house is full of angry sheep.

I'm a plant scientist and I love my job, it doesn't really feel like work. I also love drawing and painting, making bath bombs, lip balms etc. and crafty things in general. I like yoga, cycling and running, and did my first half-marathon a couple of years ago.

My Work: I research plant disease, and how plants can defend themselves against germs!

Read more

My research aims to discover more about how plants defend themselves against disease. We need to know about this so we can keep plants healthy. Its not just people and animals who get sick – plants get diseases too. You might not hear them cough or sneeze, but you may well notice spotty bits or dead patches on leaves when you are in the garden or out for a walk. Infection can spread from plant to plant, and this is a huge problem in farmers fields, where if just one plant gets infected, it can spread through the entire crop. Then instead of a field full of food, we have a field full of dead plants. Not good.

We need healthy plants for so many things. Food is a big one –  like potato plants, berries and fruit trees, and cereal crops. But we also rely on plants for many other things. Useful materials, like wood for furniture and cotton for clothes. We can use plant material for energy. Or we can use plants for medicines – did you know that over 10% of our most important medicines come from flowering plants?

Just like us, plants have an 'immune system' – a way of recognising infection and fighting it off. I specialise in plant disease resistance genes, or 'R' genes. These act a bit like an alarm system for the plant; they allow the plant to recognise that it is being infected and switch on its defences pronto. ALERT…ALERT… GERM DETECTED… PREPARE FOR BATTLE!! If the plant wins, then it fights off the infection and stays healthy. If the plant loses, it will become sick.

I am particularly interested in the disease potato late blight. This plant disease played a huge part in the Great Famine of Ireland in the 1800's – many people relied on potatoes as a main source of food, and didn't have enough to eat when all the plants got infected. We are still trying hard to keep this disease under control today, and farmers often have to spray their fields with chemicals to stop the plants from getting infected. These chemicals can be damaging to the environment, but without them we could lose the whole crop to disease.

If we can understand the plant immune system better, we can learn how best to protect our plants from disease. This will allow us to provide enough food for the world, whilst doing as little damage as possible to the environment.

My Typical Day: Mixing chemicals in tiny tubes, infecting plants on purpose, measuring, analysing, and drinking tea :)

Read more

My typical day usually starts with sitting down to look at my plan of action – there is usually a fair bit of multi-tasking involved! The plants need looking after of course… sowing out seed, watering plants, sampling leaves, cutting them up or freezing pieces in liquid nitrogen before grinding them up with a mortar and pestle.

I often infect plants on purpose to see what happens. We sometimes use plants that have a slightly different version of a gene (they have a 'mutation') and it's useful to see whether these get more or less infected. Infection can involve putting tiny droplets of spores onto the leaf and measuring the size of the infected site over a few days. Or it may involve making a huge bottle of smelly bacterial solution and flooding plants with it!

I am especially interested in a thing called 'S-acylation'. Genes are the instructions for making proteins, and each protein has a job to do, like recognising an infection for example. But it gets a bit more complicated – proteins can be switched on and off, or made to do their job differently. S-acylation is a bit like sticking a tiny bit of fat onto a protein, and this can change the way it behaves in the cell.

We look at this using an S-acylation assay… check out our video on YouTube to see one in action! https://www.youtube.com/watch?reload=9&v=2rTJDjMPwBY

There is often some time spent writing  – when you get interesting results, the next exciting step is to write about it and get it published. We do a lot of presentations too, sharing what we've discovered with other scientists at meetings and conferences (this part used to terrify me but it gets easier I promise!)

I also love to combine art and science whenever I get the chance, and have designed front covers for scientific journals and conference logos.

What I'd do with the prize money: Design a 'gene-for-gene jigsaw' exhibit for the Botanic Gardens

Read more

Genes and genetics are complicated, and people often find them an intimidating or scary thing to think or talk about. I'd like to design an interactive exhibit called the 'gene-for-gene jigsaw' that can entertain and educate at the same time. This would be focused on disease resistance in plants, and the fact that one plant gene (an 'R' gene) can recognise a gene from a disease-causing pathogen (called an 'effector' gene). When a plant is able to recognise a pathogen (like a bacteria or fungus) it means it can defend itself and not get infected.

We depend on plants for food and so much more, so healthy, disease-free crops are really important. Understanding how disease resistance works, and how genetics is involved, can help us to breed disease resistant crops so we can help to feed the world.

My Interview

How would you describe yourself in 3 words?

Nice. Stubborn. Odd!

What or who inspired you to follow your career?

Nature. Beautifully complicated, I'll never get bored of learning about it.

What was your favourite subject at school?

Biology and Art

What did you want to be after you left school?

An aromatherapist! I was really interested in essential oils and medicine from plants.

Were you ever in trouble at school?

No, I was a goody goody two-shoes at school. I got into trouble at home instead!

If you weren't doing this job, what would you choose instead?

An artist or graphic designer

Who is your favourite singer or band?

Craig David! Sorry not sorry :)

What's your favourite food?

Pickled onions. Doughnuts are my number 1 but i'm not allowed to eat those anymore...

What is the most fun thing you've done?

The 'Brain Wash' waterslide at Wet n WIld in Florida (I'm terrified of rollercoasters and stuff but I loved this place!)

If you had 3 wishes for yourself what would they be? - be honest!

Health, happiness, oh and I always really wanted a pet pig

Tell us a joke.

Why don't plants like maths? Because it gives them square roots :D
---
---