Profile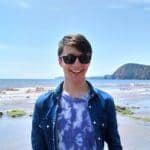 Liam Taylor
My CV
Education

University of Leeds, University of Exeter, Exeter College, West Exe High School

Qualifications

MSc Geography, BSc Geography, A-Levels in Biology, Chemistry and Geography, AS-Level in English Language, Extended Project, GCSEs include Music, French and Electronic Engineering (you don't need to decide your future during your GCSEs!)

Work History

Ryman Stationery, University of Exeter (I worked in the Print Room, did campus tours and created free online courses for people to learn about climate change), University of Leeds (I help teach students and lead sessions on climate change for school groups)

Current Job

Employer
About Me:

I study icy mountains using space lasers. One day I want to be a mad professor.

Read more

Hi! I'm Liam. I'm from Leeds, but you can also find me most weekends rambling around the Yorkshire Dales. My guilty pleasures are musicals (Greatest Showman anyone?) and I've recently got into making clay figurines. I can play the flute, and I'm learning how to play the violin. I'm a big supporter of equality and diversity in science – in particular encouraging more LGBTQ+ students to become scientists.

My Work:

I study how climate change affects our world, in particular the world's icy regions!

Read more

Glaciers are really important to lots of people all around the world. They are big frozen rivers of ice that flow really slowly (a few meters every year). They only form where it is cold enough, so that's usually at the poles and high in mountain regions. My work focusses on mountain glaciers – because millions of people across Earth rely on them for water. At the end of a glacier, they begin to melt as they enter the warmer air. This is perfectly normal and, because glaciers are fresh water, this water is used by mountain communities for drinking. The trouble is, climate change is making glaciers melt much faster – so in some parts of the world, the water is coming so fast that people are being flooded and they might not have water for much longer.

So, we should probably have good ways of looking at these glaciers, right?! The main problem is that they're soooo far away from basic infrastructure like roads and cities. So I'm using two methods to look after them. The first uses a satellite that pings a wave all the way to Earth, which bounces off the glacier and back to the satellite. Think of it like a giant space laser. This tells me whether the glacier is growing or shrinking. The second method involves using drones. If we pop a camera on the bottom of a drone and take thousands of images, we can stitch the images together to make a 3D model. If we keep going back to the glacier to get more 3D models, we can see which bits are changing and how fast.

My Typical Day:

There is no typical day!

Read more

There is no such thing as a normal day! I go to University every day and usually begin work at 9am. Sometimes I have teaching, or I work with schools in the local community to do events about climate change. Most often I have a free day where I get to decide what to do myself. There is nobody telling me what time to come in or giving me deadlines, so I have to be quite strict with myself to get the work done. A lot of my work uses satellite data, so I'm at my desk processing this. However, I have also spent time on glaciers in Peru installing sensors to monitor the way the ice moves.

What I'd do with the prize money:

Bring virtual reality into schools so you can see the impacts of climate change from your classroom!

Read more

We hear lots on the television and the internet about the impacts of climate change, but it's really hard to actually imagine what this means if we don't experience it ourselves. My idea is to partner with a project at Exeter that is developing virtual reality and help bring their work into schools. This project would mean we could do events about climate change where students in the classroom could actually see the glaciers melting or the coral reefs dying in front of their eyes. This is a much better way to see the massive scale of climate change on ecosystems all around the world.
My Interview

How would you describe yourself in 3 words?

A bit nerdy

What or who inspired you to follow your career?

People that encouraged me to follow things that I am passionate about!

What was your favourite subject at school?

Science

What did you want to be after you left school?

I had no idea! I just kept on in education because I knew I loved learning new things.

Were you ever in trouble at school?

Is that you, mum?

If you weren't doing this job, what would you choose instead?

I would be working hands-on with people to develop solutions to climate change

Who is your favourite singer or band?

I have a sweet spot for musicals...

What's your favourite food?

Doughnuts. Any time of day.

What is the most fun thing you've done?

Skydived from 15,000 feet!

If you had 3 wishes for yourself what would they be? - be honest!

To visit Antarctica, to run a marathon and to be able to sing!

Tell us a joke.

What do you call a camel with no humps? Humphrey.
My profile link:
https://ias.im/u.194412
---
---
---