Profile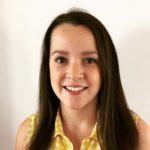 Lyndsay Christie
Curriculum Vitae
Education:

The University of Glasgow (2012-2017)

Qualifications:

MSci degree in Microbiology

Work History:

I worked part-time as an admin assistant for a financial advice company while I was at school. During my university degree I did a work placement year which I spent working in a lab carrying out my own research project. I am now working as a science researcher doing my PhD

Current Job:

PhD research student

Employer:

I am employed by The University of Bath and Cefas.

The University of Bath is a university in the south west of England which is known for conducting world class scientific research. Some of their areas of expertise are evolution, sports science and psychology.

Cefas is a government organisation which carries out research specifically to help improve the marine environemnt. This includes improving fish health, reducing pollution in the seas and understanding global warming.
Favourite thing to do in my job: Being the first person in the world to find out a new thing

About Me: I'm from Scotland but I live in England. During the day I spend my time working as a scientist in a lab. In my spare time I enjoy going to the gym, baking and spending time with friends and family.

Read more

I grew up in a town in Scotland and I love all things scottish – including haggis, tartan and irn-bru. I now live on the South coast of England by the sea and I enjoy spending time at the beach. In the future I want to try some watersports.

I go to the gym several times as I like to keep fit and active. I also play hockey which is great fun but can be very competitive. I enjoy cooking and baking as I have a very sweet tooth and it is my dream one day to be on The Great British Bake Off and maybe even win it.

My friends and family are very important to me and I try to see them as often as I can, but many of them still live in Scotland.

My Work: I am a science researcher and I work in a lab. I set up and run experiments to try and answer questions and solve problems

Read more

I work in a research laboratory. The aim of my work is to carry out research into diseases (specifically diseases that infect fish) and work out how we can control these diseases to improve the health of fish. This is important as fish are a source of food for humans.

Every day is different for me but some of the things I do at work are:

Take samples from ill fish and try to find what bugs are there

Use microscopes to look at the bugs in more detail

Try to grow the bugs in condiitons that they like

Try new ways to kill the bugs which we can use to treat the fish

The work in a laboratory is always different but it can be very easy to make mistakes so I have to be very organised and plan my work in advance.

See the photos which show the types of activites I might do in the lab.

My Typical Day: At work I run experiments in the lab and spend time looking at the results and making graphs, posters and presentations.

Read more

7am – Wake up and get ready for walk

8:15am – Walk to work along the sea front to work

8:30am – Arrive at work, check my emails, plan my day

9am – Spend time in the lab setting up and running experiments

12:30pm – Lunch time

1pm – Meetings to discuss future projects, update my supervisor

2pm – Check experiments, analyse some data, write reports

4pm – Finish off anything I'm working on

5pm – Home time!

6pm – Go to the gym

7:30pm – Make dinner

8pm – Relax

What I'd do with the prize money: Use it for school outreach activites so that students can experience fun science.

Read more

Often science in schools can be a bit boring as you don't get to do any of the cool experiments that make science fun.

I would use the money to buy materials and plan outreach events to take ino schools. I would spend a day in each school and do fun experiemnts with the students. Examples include:

Exploding soda

Breeding bacteria

Making lava

These experiments would teach the students important science lessons while being fun at the same time. Many of the materials are quite cheap meaning there would be enough money to go to lots of different schools and reach as many students as possible.

My Interview

How would you describe yourself in 3 words?

Sociable, optimistic, curious

What or who inspired you to follow your career?

I was encouraged by my family and teachers to do something I enjoyed, which was science. I didn't know anyone who worked in science and I was the first person in my family to go to university.

What was your favourite subject at school?

Biology

What did you want to be after you left school?

A scientist (and now I am)

Were you ever in trouble at school?

Only once for forgetting my homework

If you weren't doing this job, what would you choose instead?

I would be a tap dancer and performer in West End musicals.

Who is your favourite singer or band?

Taylor Swift

What's your favourite food?

Chocolate !!

What is the most fun thing you've done?

Spend 3 months in the Carribean studying frogs, bats and turtles with a great group of people

Tell us a joke.

What is the best way to catch a fish? ..... Have someone throw it at you
---
---